Are you looking to expand your raw food horizons? Eating raw food is about more than just salads – it's a way of life that can open up a world of delicious and nutritious possibilities.
Like a seedling, you can nurture your raw food journey and watch it blossom into something wonderful. From juicing, sprouting, and fermenting to dehydrating, blending, and growing your own food, there are plenty of delicious options for you to explore.
With the right techniques and ingredients, you can unlock the full potential of raw foods and create delicious meals that will nourish your body and soul.
Key Takeaways
Raw food is more than just salads and can open up a world of possibilities.
Mixing and matching different produce can create a unique flavor.
Sprouting is a nutritious and flavorful addition to your diet.
Fermenting can add flavor and nutrition to your meals while preserving fresh produce.
Juicing
You're gonna love juicing – it's the perfect way to get all the vitamins and minerals you need in a delicious, raw form! Whether you start with simple fruits or vegetables, juicing allows you to create a nutrient-packed dish in minutes.
If you're feeling adventurous, you can mix and match different slices of produce to create a unique flavor that's all your own. And don't forget about adding herbs and spices for an extra kick of flavor.
Plus, it's easier than ever to get started with juicing. There are so many different types of juicers on the market, from manual to electric, so you can find one that fits your lifestyle and budget.
Fresh produce is readily available at your local grocery store, farmer's market, or even online. So you can easily get the ingredients you need to make your own raw, nutritious juices.
With juicing, you can get all the nutrition you need without sacrificing flavor. So why not give it a try? You might just surprise yourself!
Now let's look at sprouting, another great way to enjoy raw foods.
Sprouting
Sprouting your own food is like opening a present – you never know what wonders are inside! Sprouting is a great way to expand your raw food horizons by creating a fresh and incredibly nutritious addition to your diet. You can unlock new flavors and textures while gaining a vast array of health benefits from these tiny, but mighty, sprouts.
Here are some of the amazing benefits you can get from sprouting:
Taste: Sprouting can unlock new and delicious flavors that you may not have experienced before. They can also add a unique crunch to your meal!
Nutritional: Sprouts are incredibly nutrient-dense and high in vitamins and minerals.
Food Horizons: Try new and exotic sprouts to give your diet a kick of variety.
Horizon: Sprouts are a great way to explore the world of raw cuisine.
Try New: Don't be afraid to try new sprouts – you may be surprised at how much you love them!
Sprouting is a great way to add a variety of nutrition and flavor to your meals. Whether you're new to the world of raw food or an old pro, sprouts are a fun and easy way to explore and experiment. And with the right technique and knowledge, you can be sure your sprouts are safe and delicious.
Moving on to the next topic, fermentation can unlock even more culinary possibilities.
Fermenting
Discover the unique flavors and textures created by fermenting your own food – it's a great way to add nutrition and excitement to your meals! Fermenting is a process of preserving and flavoring food using bacteria, yeast, or fungi. It is one of the oldest methods of preserving food, and is widely used for raw fruits, vegetables, meats, and fish. This process can be used to create a variety of tasty dishes, including pickles, sauerkraut, kimchi, and even sushi!
| | |
| --- | --- |
| Food | Benefits |
| Veggies | Adds flavor and nutrition |
| Fish | Adds flavor and preserves |
| Vinegar | Preserves and adds flavor |
The process of fermenting is simple and requires few ingredients. It's a great way to preserve and enjoy the flavor of fresh produce. It can also be used to add flavor to raw fish. Fermented foods can be stored for months, if kept at the right temperature and humidity level. Depending on the type of food you are fermenting, you may need to add a specific type of vinegar, salt, or other ingredients.
Fermenting is an easy way to add flavor and nutrition to your meals, while also preserving fresh produce. This process can be used to create various dishes that can be stored and enjoyed for months. Whether you're just starting out or an experienced fermenter, you can create delicious dishes with the help of fermenting. Try experimenting with different ingredients and flavors to find out what works best for you!
Dehydrating
Dehydrating is a great way to preserve and intensify flavor, while also extending the shelf life of your favorite fruits, veggies, and more. With this method, you can make your own delicious snacks such as mango chips, strawberry leather, and granola crust.
Here are some of the items you can dehydrate:
Fruits
Vegetables
Herbs and spices
Dehydrating can also be used to create unique snacks like banana chips, kale chips, and zucchini chips. It's also a great way to preserve herbs and spices like basil, oregano, and rosemary.
You'll love how the intense flavor of these items will help bring out the best in your dishes. Plus, the convenience of having dried snacks on hand is a huge benefit! The possibilities are endless when it comes to dehydrating.
From fruits to vegetables to herbs and spices, you can make a variety of healthy snacks to enjoy. With dehydrating, you can explore and expand your raw food horizons in a way that's both delicious and nutritious.
Moving on to the next section about blending, you can create even more exciting raw food snacks!
Blending
With blending, you can unlock a world of creative, healthy snacks that'll tantalize your taste buds. From smoothies to soups and purees, blending is an easy way to incorporate plant-based foods, such as fruits and vegetables, into your daily cuisine.
Carrots, for example, can be blended into a delicious hummus or a creamy soup. Blending is also a great way to create new flavors and textures. By adding different ingredients together, you can create unique dishes that satisfy your cravings and nourish your body.
When it comes to blending, the possibilities are endless. You can use a variety of different fruits and vegetables, spices, nuts, and even grains to create a variety of snacks and meals. For instance, you can use a blender to make a delicious smoothie packed with nutritious ingredients, or you can make a hearty soup to warm up on a cold day. You can even make nut butters or sauces to add flavor to your favorite dishes.
Blending is an easy way to add healthy, plant-based foods to your diet. By experimenting with different ingredients, you can create delicious and nutritious dishes that'll please your palate. With a few simple ingredients and a good blender, you can create a variety of snacks and meals that'll keep you feeling satisfied and energized.
Transitioning into the next section about chopping and dicing, it's time to explore how to create the perfect bite.
Chopping and Dicing
You'll be amazed at how chopping and dicing can transform your meals! With a few simple cuts, you can turn a boring dish into an exciting meal.
For instance, did you know that a single onion can be chopped into over 40 different shapes and sizes? Potato cubes, cilantro strips, and diced green peppers are all examples of how a few simple cuts can add flavor and texture to your dish.
When you take the time to chop and dice your ingredients, you can create a meal that looks beautiful and tastes delicious. Chop and dice techniques are also easy to learn. With a few simple steps and a little practice, you can master the art of chopping and dicing.
Start by prepping your vegetables and herbs. An onion, for example, should be peeled and cut into quarters, while a potato should be diced into cubes. Once you have your ingredients prepped, it's time to start chopping and dicing.
Use the tip of your knife to make thin, even slices. If you need to dice something, make sure your cuts are uniform in size. By taking the time to chop and dice your ingredients, you can create a meal that looks and tastes amazing.
Plus, you can be sure that you're getting the most flavor out of your ingredients. So why wait? Get chopping and dicing today, and start expanding your raw food horizons!
Growing Your Own Food
Grow your own food and reap the rewards of a delicious and nutritious harvest! Home-grown produce is an excellent way to bring fresh and organic ingredients to your kitchen. Planting your own fruits, vegetables, herbs, and spices is easy and introduces you to a world of culinary possibilities.
| | |
| --- | --- |
| Seafood | Nutmeg |
| Ceviche | Chili |
| Lemon | |
With your own homegrown ingredients, you can make dishes such as Ceviche with lemon and seafood, chili with nutmeg, or any combination of flavors you can imagine! Not only will you be able to experiment with different flavors, but you can also guarantee that your produce is organic and free from pesticides and other chemicals.
Growing your own food is a great way to save money, reduce your environmental footprint, and enjoy healthier meals. Plus, when you know your ingredients are coming straight from your own backyard, you have the satisfaction of knowing that your food is as fresh as possible. All you need to get started is a plot of land, some patience, and a bit of knowledge.
Harvesting your own food is an enjoyable and rewarding experience. With the right tools and knowledge, you can have a steady supply of fresh and nutritious ingredients for all of your meals. Start exploring the exciting world of growing your own food and enjoy the delicious and healthy rewards!
Eating Seasonally
Eating seasonally is an incredibly delicious way to tantalize your taste buds and expand your culinary creativity! Seasonal eating offers many benefits, such as access to fresh and healthy food, the ability to explore new foods, and a focus on sustainable practices.
Eating seasonally is especially popular in the Mediterranean, where the seasonal produce is incredibly nutrient-dense and flavorful. In the Mediterranean, seasonal eating is also about discovering new ways to cook healthy food. Seasonal vegetables, fruits, and herbs are used to create delicious dishes that are both satisfying and nutritious.
By eating seasonally, you can ensure that you are getting the most out of your food and supporting local farmers. Eating seasonally is not just about enjoying the abundance of produce in the summer months. It is also about exploring the flavors and textures of winter foods that are often overlooked.
By expanding your culinary horizons and exploring new recipes, you can enjoy the bounty of the season, no matter what the weather is like. From soups to salads, there's always something new to discover when eating seasonally.
Exploring New Recipes
By sampling a variety of recipes, you can discover a world of flavors and textures that will tantalize your taste buds. From juicy steak to delicate sushi, from hearty casserole to sweet muffins, from savory pancakes to flavorful salads – the possibilities are endless.
Numerically speaking, three recipes you could start with include: 1) a spicy steak marinade; 2) a classic sushi roll; and 3) a classic casserole. Exploring these recipes can open up a world of delicious possibilities.
For example, steak can be cooked in a variety of ways – grilled, seared, braised, or simply pan-fried – to create a savory and juicy dish. Sushi provides a light and healthy option, where you can play with flavors and textures by adding different vegetables, proteins, and sauces. And casseroles can be a great way to fill up your plate quickly and easily.
From pancakes to muffins, there are also a variety of sweet and savory recipes to explore. Pancakes can be a great base for a variety of flavors, from blueberries and bananas to chocolate chips and nuts, while muffins can be a great way to enjoy a sweet treat without too much guilt. With a little bit of creativity, you can find a recipe that suits your taste and dietary needs.
Moving on from exploring new recipes, you can also look to supplement your raw food diet with superfoods.
Supplementing with Superfoods
Supplementing your diet with superfoods can give you the vitamins and minerals you need to stay healthy and energized. Don't worry, you don't have to sacrifice flavor to get the nutritional benefits – superfoods come in a wide variety of delicious options.
Incorporating superfoods into your daily routine can be an easy way to nourish your body nutritiously. Superfoods provide vital nutrients like fiber, protein, Omega-3 fatty acids, and antioxidants that can help to boost your energy and support your immunity. Adding superfoods to your diet can also provide many essential vitamins and minerals like Vitamin A, Vitamin C, and Iron.
There are countless superfoods to choose from, so you'll have no trouble finding something that will fit into your daily diet. Some popular options include leafy greens like kale, spinach, and broccoli, nuts and seeds like chia and flax, whole grains like quinoa, and fruits like blueberries and acai.
You can also supplement your meals with superfood powders, like spirulina, maca, and turmeric. By including superfoods into your regular diet, you can reap the benefits of added nutrition without having to make drastic changes.
Superfoods can be a great way to take your health and nutrition to the next level. Not only do they provide essential vitamins and minerals, but they can also help to boost your energy and support your immunity. Whether you're looking to add a bit of extra nutrition to your meals or you're wanting to make major dietary changes, adding superfoods to your diet is an easy and delicious way to get the nutrition your body needs.
What Are Some Mediterranean Raw Food Options?
Greek salad with raw vegetables and feta cheese.
Tabouli salad made with raw parsley, tomatoes, onions, and bulgur wheat.
Mediterranean vegetable wraps with hummus and raw vegetables.
Baba ganoush made from raw eggplant, tahini, and lemon juice.
Raw zucchini noodles with pesto sauce.
Raw beetroot salad with feta cheese and olive oil.
Raw tomato and cucumber salad with feta cheese.
Raw stuffed vine leaves with rice and herbs.
Mediterranean gazpacho soup made with raw tomatoes, cucumbers, peppers, and herbs.
Raw grilled eggplant with tomato sauce and herbs.
Raw Zucchini Lasagna
This dish replaces traditional pasta with thin slices of zucchini and features a rich cashew-based "ricotta" cheese, along with layers of raw marinara sauce and a nut-based "Parmesan" cheese. This reinterpretation of a classic Italian dish demonstrates how raw food can be both hearty and satisfying.
Raw Chocolate Avocado Mousse
This innovative dessert blends ripe avocados, raw cacao powder, and natural sweeteners to create a rich, velvety chocolate mousse. The use of avocados as the base challenges the notion that decadent desserts must rely on dairy and processed sugars, offering a healthier alternative without compromising on taste and texture.
Raw Pad Thai
This colorful dish replaces traditional rice noodles with spiralized zucchini or kelp noodles, and features a flavorful sauce made from ingredients like almond butter, lime juice, and coconut aminos. Topped with an array of fresh, crunchy vegetables and a sprinkle of crushed nuts, this raw Pad Thai offers a refreshing take on a popular Asian dish.
Raw Superfood Smoothie Bowls
Smoothie bowls are a versatile and delicious way to enjoy a nutrient-packed meal. Combining a variety of fruits, leafy greens, and superfood powders, these bowls can be customized to suit individual tastes and nutritional needs. Topped with an assortment of nuts, seeds, and fresh fruit, these visually appealing bowls challenge the idea that raw food is limited in flavor and presentation.
By continuing to experiment with innovative recipes and techniques, the raw food movement is transforming the culinary landscape and challenging conventional notions of cooking and dining. As more people explore the possibilities of raw food, we can expect to see even more groundbreaking recipes and culinary creations that promote health, sustainability, and a deeper appreciation for the natural beauty of food.
Frequently Asked Questions
How do I make sure I'm getting all the necessary nutrients if I'm eating a mostly raw food diet?
Eating a mostly raw food diet can be a great way to get a variety of nutrients, but it's important to make sure you're getting all the necessary ones.
You'll want to make sure you're eating a wide selection of fruits, vegetables, nuts, seeds, and legumes to ensure you're getting a balanced diet.
Additionally, incorporating fermented foods into your diet can provide beneficial bacteria and help your body better absorb the nutrients you're consuming.
Eating some cooked foods can also help you get some vitamins and minerals that may be missing from a purely raw diet.
By being mindful of the nutrients you're consuming, you can make sure you're getting everything you need from your raw food diet.
What foods should I avoid when eating raw?
You might be wondering what foods to avoid when eating raw. Well, first and foremost, it's important to remember not to bite off more than you can chew.
Raw meat, poultry, and fish should be avoided, as they can contain harmful bacteria and parasites that can make you sick. Similarly, unpasteurized dairy products, like raw milk, should be avoided.
You should also avoid raw eggs, as they can contain salmonella, as well as foods that contain molds, such as soft cheeses. Finally, any food that has been processed, such as deli meats, should be avoided.
Are there any safety concerns I should be aware of when preparing raw food?
When preparing raw food, it's important to be aware of safety concerns. Make sure to thoroughly wash all fruits and vegetables to get rid of any bacteria that may be on them.
Additionally, avoid leaving raw food out for too long and keep it refrigerated if it needs to be stored.
When you're handling raw meat, it's important to use separate cutting boards and utensils to avoid cross-contamination.
Lastly, make sure to cook eggs thoroughly before consuming them. Following these safety guidelines will help you enjoy raw food without any health risks.
What are some tips for maintaining a balanced raw food diet?
Imagine that your body's a house. If you wanna maintain it, you need to keep the foundation strong. That means eating a balanced diet that includes a variety of raw foods.
Start with fruits and vegetables, and then add nuts, seeds, legumes, and unprocessed grains. Look for variety in color, texture, and taste. Experiment with different flavors and combinations.
For a balanced diet, aim for at least two servings of fruit and two of vegetables a day. Include healthy fats like avocados, coconut, and olive oil, and try to eat something raw every day.
With a little bit of experimentation, you can create delicious meals that will keep your body's foundation strong.
Are there any ways to make raw food more affordable?
Eating a raw food diet can seem expensive, but there are ways to make it more affordable.
One way is to shop in season, grow your own produce, or join a CSA (community-supported agriculture).
You can also find discounts at farmer's markets and bulk stores, and take advantage of sales.
With some planning and effort, you can create a vibrant raw food diet that won't break the bank.
What does it mean to expand your food horizons?
Expanding your food horizons means trying new and different types of food that you may not have experienced before. It can help you discover new flavors, textures, and culinary techniques that you may have never known existed. It can also lead you to healthier food choices and a more diversified diet.
Why is it important to expand your horizons when it comes to food?
Expanding your food horizons can be a great way to get out of your routine and try something new and exciting. It can also be a good way to add more nutritional variety to your diet and discover healthier food options that you may enjoy. Additionally, exploring new foods and cuisines can be a fun and rewarding experience that can expand your knowledge and appreciation of different cultures.
How can I expand my raw food horizons?
One way to expand your raw food horizons is to try new fruits and vegetables that you may not have tried before. For example, you can try adding veggies like carrots or cucumbers to your salad, or experiment with different types of greens and herbs to add flavor to your dishes. You can also try incorporating different types of raw fish or seafood into your meals, like ceviche or sushi. Another way to expand your horizons is to try new raw desserts or snacks, like raw muffins or fruit-based treats.
How can I make raw food taste better?
There are a number of ways to make raw food taste better. One way is to experiment with different spices and herbs, like cilantro or onion, to add flavor and depth to your dishes. Another method is to incorporate tasty dressings or sauces, like vinegar or pickle juice, into your salads or vegetable dishes. You can also try different textures of raw food, like slicing or chopping your veggies in new ways or trying to create raw stews or casseroles.
Can I still eat meat when expanding my raw food horizons?
Yes, you can still eat meat when expanding your raw food horizons. However, you may want to consider incorporating more raw vegetables and fruits into your meals to balance out the nutritional value of your diet. You can also try experimenting with raw meat dishes, like steak tartare, to expand your culinary horizons.
Conclusion
Ready to take your raw food journey to the next level? You don't have to just stick to salads and smoothies!
By exploring juicing, sprouting, fermenting, dehydrating, blending, growing your own food, eating seasonally, exploring new recipes, and supplementing with superfoods, you can create unique and delicious meals.
Plus, did you know that eating raw can help your body absorb up to 97% of the nutrients from the food?
With so many options, you're sure to find something to love! So why not get creative and give it a try? You won't regret it!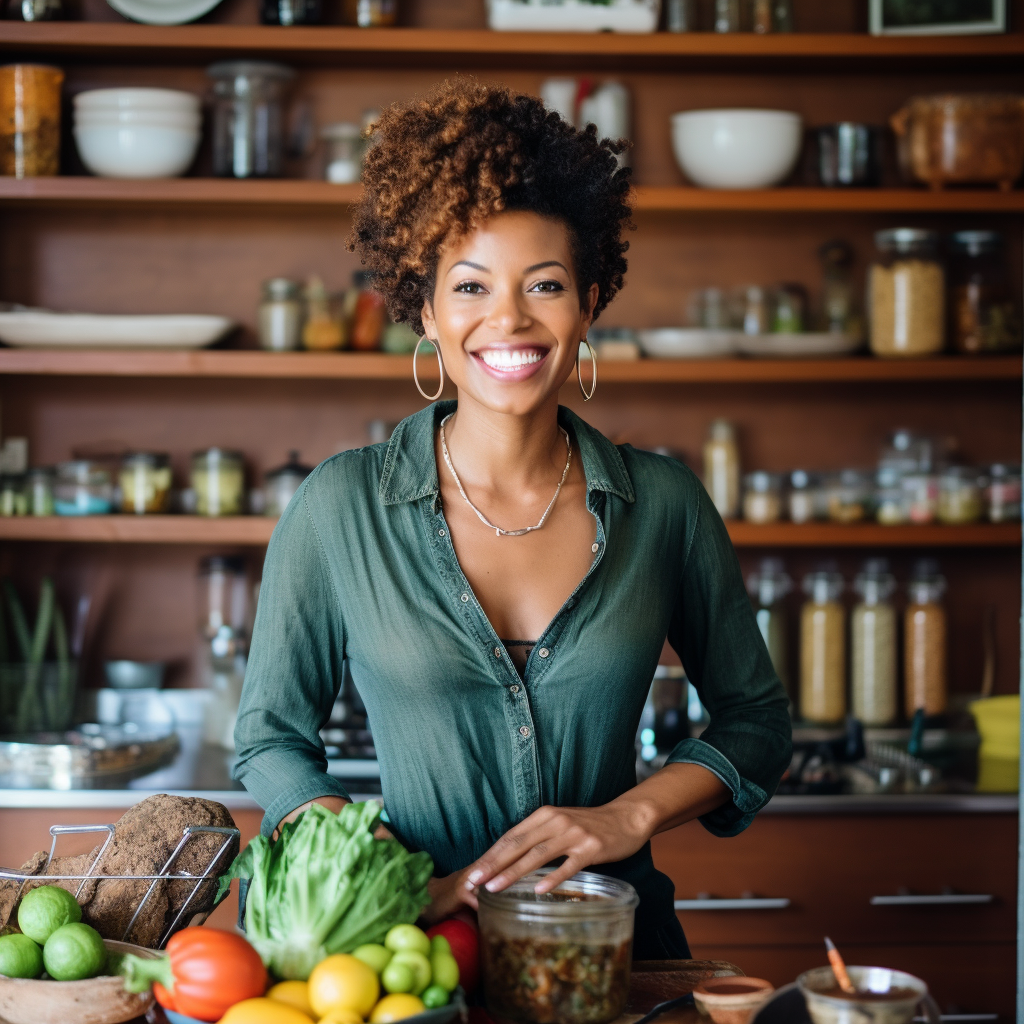 Lorraine, a talented writer for rachaelsrawfood.com, brings a unique blend of creativity and expertise to the platform. With her passion for writing and deep knowledge of raw food, she plays a crucial role in inspiring and educating readers about the joys and benefits of a raw food lifestyle.
Lorraine's creativity shines through in her recipe development. She enjoys experimenting with unique flavor combinations and innovative cooking techniques, pushing the boundaries of what can be achieved with raw ingredients. Her recipes not only showcase the incredible taste and variety of raw food but also demonstrate that a raw food diet can be exciting, diverse, and satisfying.
In addition to her writing contributions, Lorraine actively seeks out new trends, research, and developments in the field of raw food. She attends workshops, conferences, and culinary events, constantly expanding her knowledge and staying up to date with the latest discoveries. This commitment to continuous learning ensures that her writing remains current, reliable, and relevant to the ever-evolving landscape of raw food.
Lorraine's genuine enthusiasm for raw food is contagious, and she strives to connect with readers personally. She understands that embracing a raw food lifestyle can be a journey, and she uses her writing to provide guidance, support, and encouragement to individuals at all stages of their journeys. Her empathetic approach and storytelling make her a trusted and relatable voice in the raw food community.